The new über-capable track weapon is the first 718-based RS
One stat stands out in Porsche's tease of the upcoming 718 Cayman GT4 RS, the new, hotter version of the already track-optimized Cayman GT4 sports car: 23.6 seconds. That time represents the gulf between the GT4 RS's lap time around the Nürburgring Nordschleife racetrack in Germany, and the lap time of the regular 718 Cayman GT4. When the total lap times we're talking about here hover near the seven-minute mark, that 23.6-second improvement implies the new 718 Cayman GT4 RS is packing a lot more heat.
Heck, that GT4 RS lap time quoted by Porsche was delivered by a prototype, the camouflaged car you see in these photos. Maybe the production model will be even quicker? Either way, the RS's combination of aerodynamic improvements, engine improvements, and tire improvements (the prototype is wearing Michelin Pilot Sport Cup 2 R rubber, which will be offered as an option on the production car) clearly has unlocked a load of fresh intensity from the 718 platform.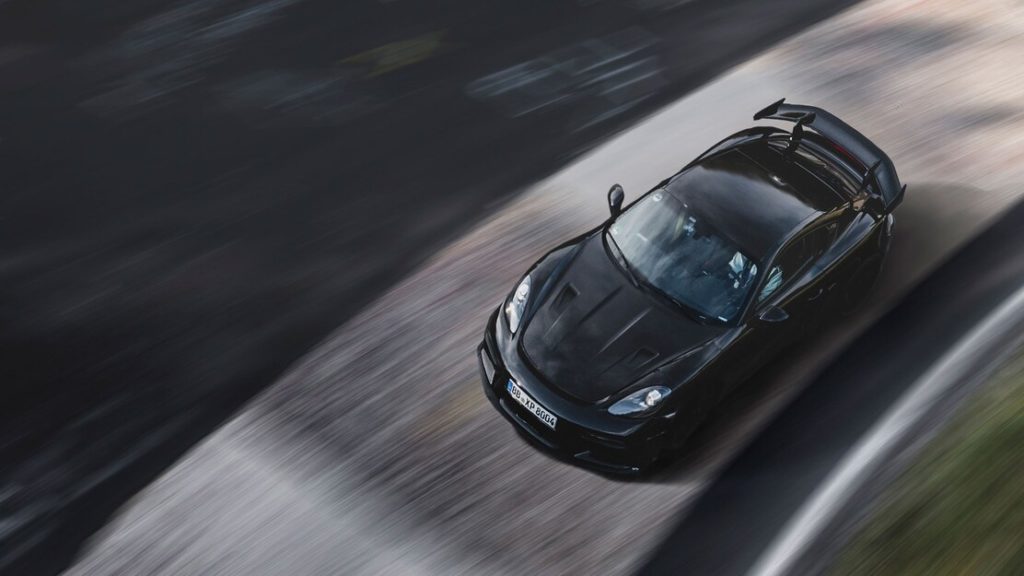 You can watch the Cayman 718 GT4 RS's lap time above and guess for yourself what might be behind the sports car's massive performance improvement over the "plain" GT4. Our guess? That, like the regular GT4, the Cayman GT4 RS uses a 4.0-liter flat-six engine. While that engine makes up to 420 hp in the GT4 Clubsport spec, the RS will likely get a different 4.0-liter flat-six—the version from today's 911 GT3. That'd mean a few more ponies lurk under the 718 GT4 RS's rear hatch than in the non-RS GT4. Up to 80 ponies more, to be specific.
Other clues about the GT4 RS's details lurk in the photos released by Porsche here. For starters, you can probably expect the RS to only be available with Porsche's PDK dual-clutch automatic transmission; the ultra-quick-shifting gearbox is basically a given in modern RS vehicles, even if it's sad news for fans of the regular GT4's manual transmission option. You can just make out the shift paddles on the GT4 RS prototype's steering wheel in the photos provided by Porsche.
We'll know final details, including the GT4 RS's engine spec and basic appearance, soon. Porsche will unveil this mightiest of non-911 sports cars in November—next month.

Source: MotorTrend