OVERVIEW

WHAT IS IT?

Alfa's love letter to the fast saloon, the Giulia GTA (Gran Turismo Alleggerita – Italian for 'grand tourer, lightened') comes in two guises: straight Giulia GTA and Giulia GTAm, the latter being the more hardcore iteration. Both get significant lightweighting over the 503bhp QV, both get a mild increase in power to 532bhp, mainly thanks to a titanium Akrapovic exhaust that peeps out from the middle of the new (bigger) rear diffuser, as well as small engineering tweaks like a larger turbo compressor wheel for extra boost rpm, shinier pistons, reinforced connecting roads, bespoke valve springs and tricked-out oil cooling. Pretty standard stuff.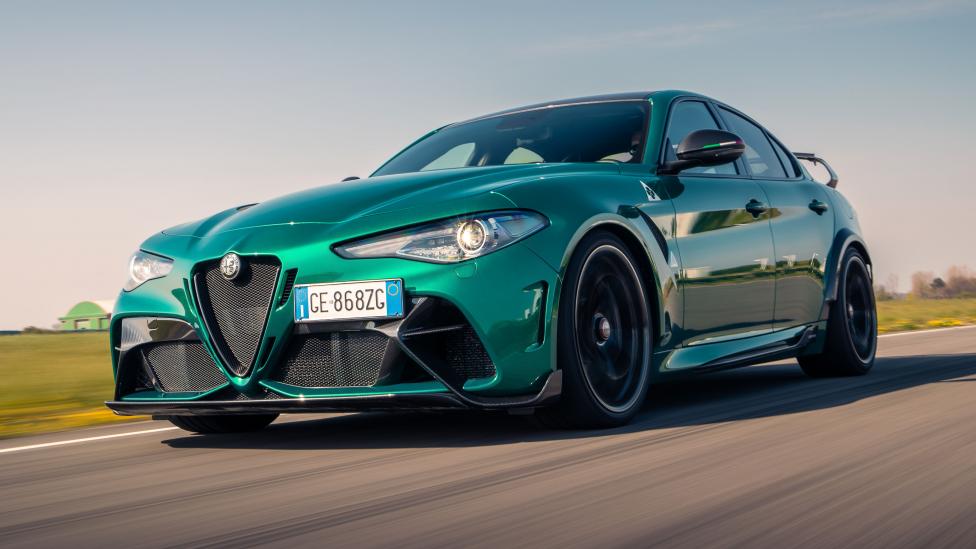 AND WHERE'S ALFA ADDED LIGHTNESS?

The diet comes in the form of carbon for the driveshaft, bonnet, roof, front bumper, front wheel arches and rear wheel arch inserts, and the shells for the Sabelt sports seats. All are weave. The GTAm gets a thinner windscreen, polycarbonate rear window and no back seats, while adding in a half 'cage and plumbed-in fire extinguisher, as well as the higher-plane rear wing. There are even fabric door pulls for the front doors – handy when wearing the full race harnesses. Oh, and there are back doors, but no interior door cards. A bit showy-off, but it all looks adjustably fantastic.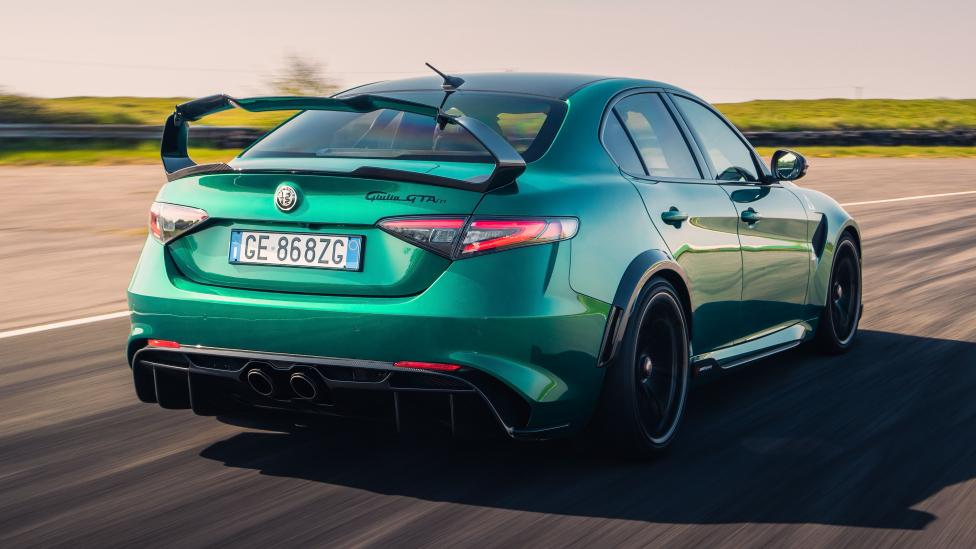 IT'S CERTAINLY GOT PRESENCE…

The tracks are 50mm wider and kept covered by subtly blistered arches. The wheels are Alfa 'telephone dial', but pleasingly centrelock. The brakes are – lighter – ceramic. And that aero package – adjustable front splitter, rear wing and deep rear venturi – arrives via Alfa's partnership with Sauber Engineering. Dynamic sign off was through actual Formula One drivers. Safe to say, this doesn't seem like a just bodykit and re-map. Although it has both.
HOW MANY WILL BE BUILT?

The engine is the familiar 2.9-litre V6 sporting a pair of turbos, the figures an appropriate increase over a QV. But even though the performance statistics are reliably impressive, this is a car that's all about the set-up. It makes sense aesthetically – it looks stunning on the road – but its not until you drive one in anger that it makes sense intellectually. There are definite allegories to be drawn between this and something like a Jaguar Project 8 and BMW M4 GTS, even something like a Porsche 911 GT3, although the GTA will be limited; only 500 are to be made, of both models. Interestingly, the sales split is currently running at roughly 50:50 between GTA and GTAm.
WHAT'S THE VERDICT?

"Alfa's love letter to the fast saloon doesn't make rational sense, but it doesn't matter: it's very, very special"

If you just wanted to be the fastest car at a trackday, you'd go and buy a Radical and have done with it. But that's not what Alfa Romeo has done here. In pretty much all metrics, these Giulias do not make much sense. But they're built by engineers as a very expensive, fun-having exercise. If you're being brutal, the straight GTA will be the more coherent one to have, the more useful, the more responsible. But when you're talking about an Alfa Guilia that costs the same as a nice semi-detached house in some parts of the UK, who wants sensible? Top Gear would likely order a GTAm and just take the hit on the Christmas cards…
The GTA is … proper. A fun, exciting, invigorating, special piece of engineering. It's not particularly rational, but the best things in life tend not to be.

Source: Top Gear