Ferrari SP48 Unica: this is the name of the new one-off from Maranello, created by the team led by Flavio Manzoni and last – in chronological order – representative of what customers can obtain by contacting the Cavallino Special Projects program, created to give shape to the wishes of those who are not satisfied with "any" Ferrari.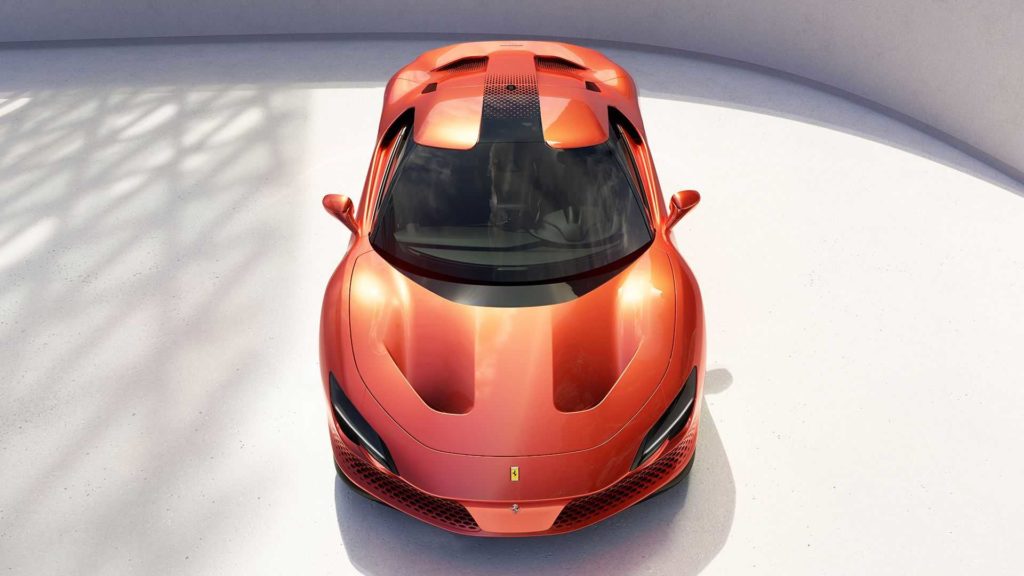 Based on the F8 Tributo, from which it takes the platform and engine, the SP48 Unica is a 2-seater coupe with an aesthetic that stands out considerably from the starting model, making it truly unique.
The Ferrari SP48 Unica is immediately characterized by the much more taut lines than those of the F8 Tributo, with the front completely redesigned and which – in some ways – recalls that of Rome. The nose descends quickly towards the grille, closed in the center while the air intakes on the sides give life to a three-dimensional design that guides the eye towards the grille. The design of the lights also profoundly changed, with horizontal development like those of the SF90 Stradale.

The sides are also considerably modified, very angular and characterized by redesigned air intakes, with the "vents" smaller than those of the F8 Tributo, thanks to the presence of air intakes placed immediately behind the side windows. Glass missing completely at the rear, with the rear window "broken" in 2 by the central element that goes from the roof to the tail, integrating perfectly with the small spoiler. The rear is also completely new, with the very thin lights joined by a line in glossy black.
The cockpit of the Ferrari SP48 Unica does not appear in the official photos, we only know that it does not differ particularly from that of the F8, at least in terms of the arrangement of the elements, with black Alcantara with laser perforations to cover most of the seats and panels, worked in so as to allow a glimpse of the iridescent fabric that turns from red to orange, echoing the effect of the bodywork.