Can your organs handle a 1,471bhp-per-tonne slicks and wings special from Bugatti?
It's a question we've all figuratively asked but never thought we'd get answered: what would happen if Bugatti made an extreme track-only, lightweight hypercar? Wonder no more. This is the Bugatti Bolide – Molsheim's 1,842bhp, 1,240kg downforcetastic love letter to bleeding-edge engineering and organ-bruising lap times. 5m 23.1s around the Nordschleife kinda lap times. Yikes. That's not all, in a low downforce setting Bugatti claims the Bolide could also do more than 310mph. And thanks to all-wheel-drive, can also shoot from 0-62mph in 2.17 seconds. So no matter how you like your fast served, the Bolide will dish it up. We just hope you're hungry.
It follows on from the current vogue for high end can't-drive-on-the-road, can't-race-in-a-championship hypercar track toys. You know, things like Aston Martin's Valkyrie, McLaren's Senna GTR, the Mercedes Project One and Ferrari FXXK. Just like them, the Bolide uses the modern race car's recipe of minimal weight and maximum downforce. But then takes the concept of a track-only hypercar to another level, by pairing those ingredients with an absolute juggernaut of an engine.
Nestled snuggly in the heart of a carbon fibre monocoque is the same 8.0-litre, quad-turbo W16 unit we've come to know and love from Bugatti. But where it comes with 1,479bhp in a standard Chiron and 1,578bhp in the production version of the record-setting Chiron Super Sport 300+, the Bolide boots the doors down with 1,842bhp when running 110 octane racing fuel. It's also got a lot less weight to push around. Thanks to a fighter-jet inspired design wrapped around a skeletal structure, the thing only weighs 1,240kg – 100kg lighter than a Porsche Cayman GT4. Some quick maths equates that to an insane power-to-weight ratio of 1,471bhp per tonne. Which is a truly monstrous figure when you compare it to the then jaw-dropping 644bhp per tonne that left us speechless with the Veyron SS a decade ago.
We're told Bolide is a rolling concept to be used for future technology and it's taken Bugatti's engineers just eight months to churn out. Talk about a productive lockdown. Yep, instead of feeling guilty about not doing Joe Wicks' workout, Bugatti's biggest brains hopped on Zoom and decided to blow the top off blue-sky thinking to try and get into another stratosphere of fast. How? Through the use of exotic materials, no rules and brain-melting ideas. It looks like they've succeeded.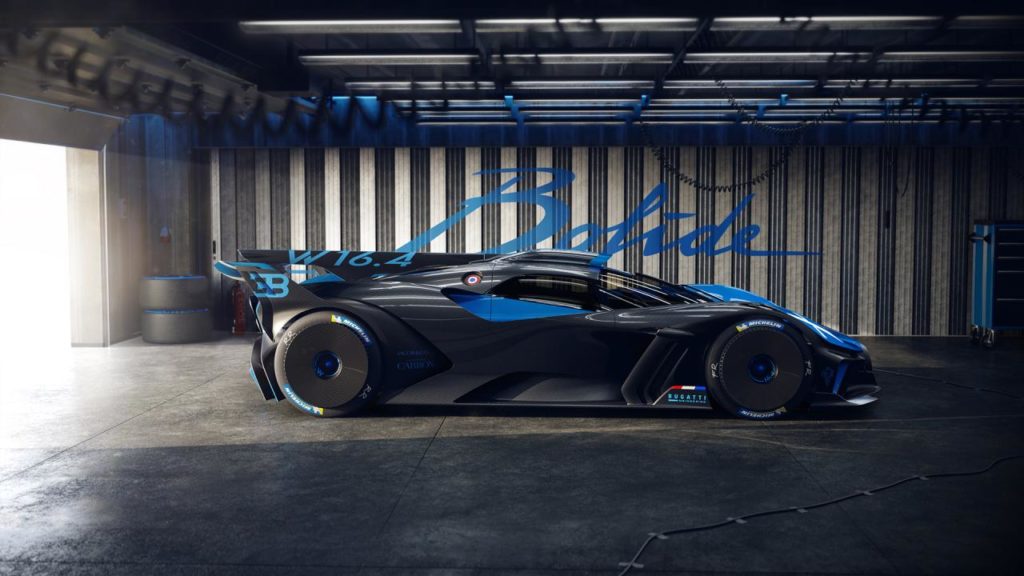 Let's start with the power. To get that extra oomph over standard, engineers bolted four new turbochargers with new optimised blades to make the engine build more boost pressure and power at higher engine speeds. At 7,000rpm the W16 now produces 1,842bhp and 1,364lb ft of torque. But more power and torque means more energy, and therefore more heat, so the whole oil and cooling systems have also been redesigned – including the introduction of air-to-air intercooling with water pre-cooling, rather than the standard water-to-air. And as there's a lot more speed to scrub off before going into corners, new hybrid carbon titanium turbofan radial compressors ventilate and cool F1-style racing brakes finished with ceramic discs and coatings.
But it's the diet that Bugatti has put its track racer on that really makes you think. Not since Christian Bale in The Machinist has anyone lost so much chunk for a dedicated role. In total, the Bolide has lost 755kg – the same as throwing an original Mini with a set of dumbells in the boot in the bin. Where weight could be saved, it has. So the driveline was gutted for grams, carbon fibre bodywork was kept to a minimum, any screw or fastening device is made out of titanium, and where possible, 3D printed aerospace titanium alloy was used. Just like the original Type 35 that had a hollow-bored and forged front axle, any weight that could then be scooped out of a component was. This all adds up. The brake calipers for example only weigh 2.4kgs each. The front forged magnesium rims 7.4kgs. The rears, 8.4kgs – meaning even weaklings like us could curl them in the gym. If we went to the gym.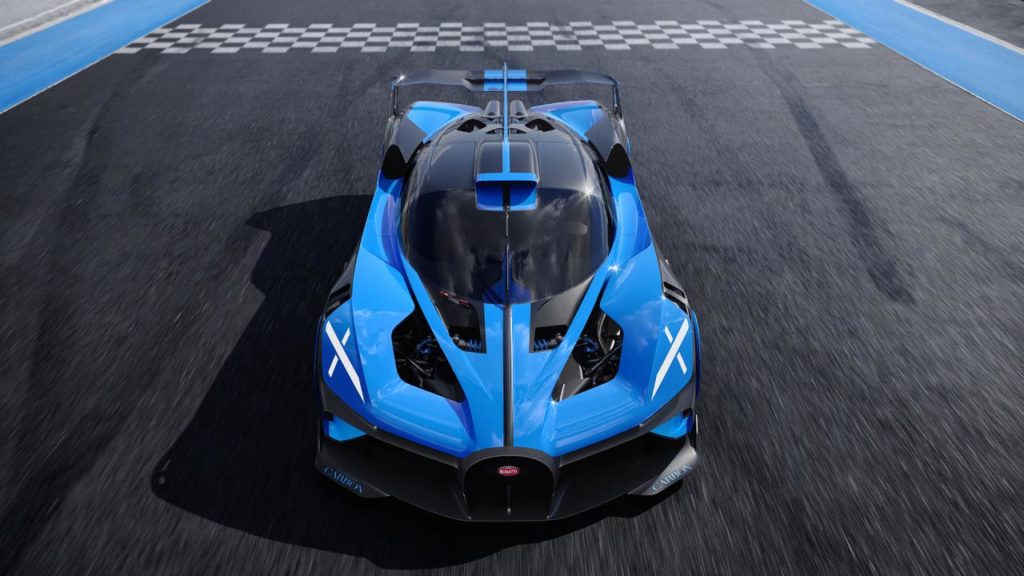 Aerospace alloys that give crazy levels of single-fibre stiffness (350,000 newtons per square millimetre, if you're counting) are present but also traditional elements that have been honed for purpose. Take the rear frame. It's made of welded high-strength stainless steel… but is only 1mm thick. There's also a morphable skin on the intake scoop on the roof which, depending on the situation, will deform to optimise airflow.
In case you hadn't guessed, downforce is also present. The Bolide has more than any other Bugatti that's come before. At 198mph, 1,800 kgs of force is being sat on the rear wing and 800kgs at the front. The suspension is rated to take 3.5 tonnes of force – or nearly two Chirons. If that's not enough to keep you planted to the tarmac, there's also Michelin racing slicks stickier than a Kellogg's Fruit Winder that's been stuck in a lunchbox on a summer's day. They're thicc boys too, 340mm on the front axle and 400 millimetres on the rear. Just for context, a boggo Chiron runs 285 mm at the front and 355 mm at the rear. With all this grip, we're told you can expect up to 2.8g. Or what people in LA call a 'cheap facelift'.
And check out the way it looks! It's like a cosmic LMP1 car with all that wild, minimalist bare carbon bodywork and extrusions that help deflect air to the right places to keep things cool and/or plunge the thing into the ground. Right at the front you've got the iconic horseshoe grille – making it instantly recognisable as a Bugatti. But from there back everything is taught and sweptback as holes punctuate all parts of the car; cutting into the bodywork inboard of the front wheels to release the pressure, holes that become a framework to see the gorgeous front double wishbone pushrod suspension and horizontal dampers.
Hopping over the snorkel you're greeted by a dorsal fin to stabilise the car at high speed that then spreads into an outrageous full-width rear wing assembly. Looking at it from dead behind is a menacing prospect. A giant 'X' signature highlighted by LEDs that draw your attention to four double-stacked exhausts and a whopper of a blue-tipped diffuser. As you may have noticed, the 'X' shape is used relentlessly throughout the design. This isn't a happy accident, rather a nod to the Bell X-1 flown by Chuck Yeager in 1947, the first person to break the sound barrier. The good thing about the 'X' shape though is that it allows room for more holiness, so you can not only see the rear suspension, but also to act as a gully to channel air efficiently, not too dissimilar from the Lotus Evija.
Standing at only 995 millimetres tall (the same height as an original Bugatti Type 35, or just less than those giant Toblerones you used to get in airports depending on your frame of reference), drivers have to slot themselves in through gullwing doors before dropping down into the arse-down-feet-up racing driving position with the pedals moving towards or away from you. Inside there's just enough room for you and someone to scare senseless. It may not be as luxurious as a standard Chiron but decked out in alcantara and fitted with a dashboard and door pulls, it's the Ritz in comparison to other race cars. Safe too, with all the features the FIA likes to see: HANS device compatibility, an automatic fire extinguishing system, towing device, pressure refuelling with fuel bladder, central locks for the wheels, lightweight polycarbonate windows, six-point harness system and air jacks for a quick tyre change.
The stats that Bugatti claim for the Bolide are potty in anyone's books. A 0-311mph-0 time of 33.62 seconds. A Nordschliefe lap just off the Porsche 919 Evo's record and a Le Mans lap time of 3:07.1, good enough for it to snatch pole at this year's race by eight seconds. Obviously, these times are all currently simulated, and whether we'll ever actually see the camouflaged Bugatti Bolide that's been testing at Paul Ricard driven in anger remains to be seen. But Bugatti has gone and answered the question we've all figuratively asked but never thought we'd get answered: what would happen if Bugatti made an extreme track-only, lightweight hypercar? Now we know. But here's another, what do you think?