Separated by 56 years, the Mercedes 300SL and SLS AMG are light years apart, but linked by one crucial element - those gullwings
Everybody knows the Mercedes 'Gullwing' – it's just one of those cars. Not many people could tell you how old it is, or how rare it is, or even its real name (which is 300SL, in case you were wondering), but pretty much everyone can identify it. And that's something worth treasuring. Or bottling. Or at least being inspired by.
The 300SL's legendary status as both a design icon and a sporting superstar goes a long way to explaining the modern-day SLS – the first car designed solely in-house by Mercedes-Benz's go-fast AMG division as a new sports-car flagship for the three-pointed-star. It, too, has a pair of gullwing doors, a bonnet that extends forever and a neatly tucked-in tail. And it, too, is one of the fastest cars of its time. But the $464,000 SLS is probably the last thing you'd see a Hollywood starlet climb out of onto the red carpet (unless it's outside an LA club at 3am), even though they could afford it, because, like the be-winged original, it requires technique to enter and exit. Unlike the original, those attention-grabbing doors are like they are purely to do just that – make a statement.
In the 300SL's case, the Gullwing doors came about by necessity. The 1954 production car was loosely based on Mercedes-Benz's hugely successful 300SL racecar of 1952, sharing its tubular chassis – employed to save weight while providing a high level of structural strength – but also the compromises associated with such a design. And that meant using the race car's gullwing door arrangement required to clear the chassis's skeleton and wide side sills so occupants could get in and out. Of course, the benefit here is that the doors look fantastic, but try telling that to any woman brave enough to climb aboard wearing a short skirt!
The technique to get in and out of both Gullwings is reasonably straightforward, though it's the SL that requires more thought. Open the driver's door, straddle the side sill with your left leg in the footwell, then bring your right leg across and lower yourself down into its vintage, low-backed, red-leather buckets. Getting out is more difficult seeing you have to lift yourself back onto the sill, but I can think of modern Lotus's (like the Exige) that make the whole process a lot harder. And at least the SL's open doors aren't too much of a stretch.
The SLS is the same, but different. The sills are lower and slimmer, but then the seat is also lower, and so is the roof line. You get in using the same method, but placing a hand on the top edge of the windscreen is a good idea, both from a leverage perspective and to prevent belting your head. The SLS is definitely the easier Gullwing to jump out of, providing you're not 104, but when the wings are open, if your arm span isn't approaching Ian Thorpe's, those door armrests are a long way up. Just ask Phil Walker…
In each case, there's plenty of lightweight tech in the body structure. The SL features an aluminium bonnet, doors and bootlid to keep it looking trim on the scales (roughly 1295kg), but the SLS goes the whole nine yards, as you need to in body-conscious 2010, with an aluminium spaceframe structure and a completely aluminium shell and panels.

The result is 1620kg – impressive compared to its competitors and hundreds of kilos under the relatively porky SL63 (1970kg), but still a long way from truly being 'Sports Light', as the SL part of its title is meant to signify.
But given what is simmering under the SLS's enormous bonnet, 1620kg is chicken feed. When a 420kW V8 is doing the talking, no amount of chub is going to hold this baby down! As the final, dry-sumped swansong of AMG's five-year-old, 6208cc naturally-aspirated V8, the SLS gets the works.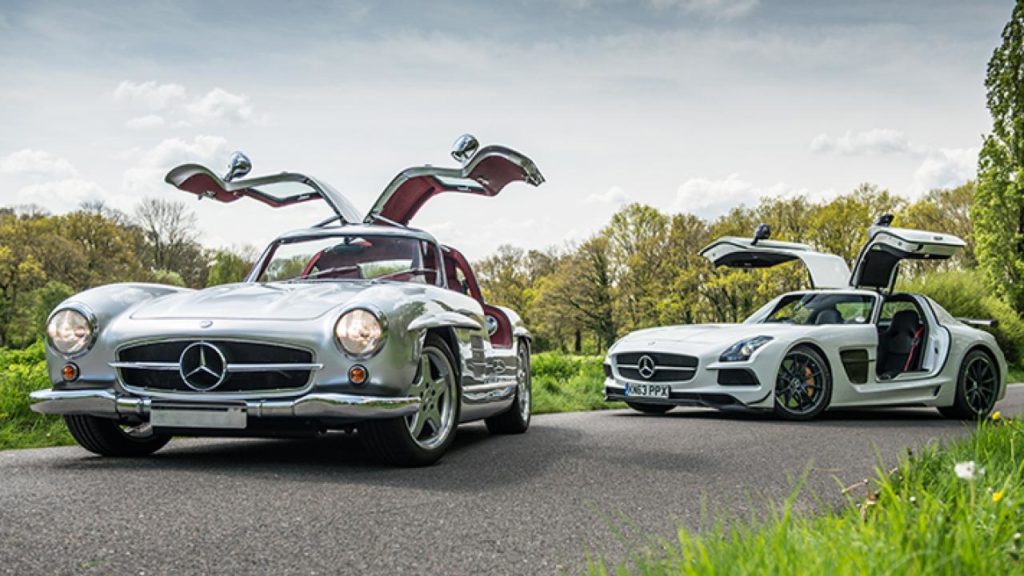 This engine has always sounded brilliant, even in the ML63 4WD, but the SLS version eclipses all before it in terms of acoustic magic. It's hard to imagine how this thing sneaks past drive-by noise regulations, but hallelujah that it does!
Every time you back off the throttle in the SLS, it's exhaust does this beautiful crackle. And even cruising around trying to stick to the speed limit, you're accompanied by a constant, delicious metallic burble. Your right foot is simply the volume knob, and when you crank that up to 11, the SLS sounds as dramatic as it looks. Seven gears, 7400rpm to explore, and one hell of a performance experience punching to 100km/h in 3.8sec while waking up the neighbours three suburbs away. Gearchanges from AMG's first dual-clutch transmission are dispatched with a whip-crack, and any dreams of role-playing Michael Schumacher are fulfilled in an instant.
If you teleported someone forward from 1954 (or in the case of Patrick Devine's right-hook 300SL, 1956) to today and let them experience the SLS's accelerative firepower, it would be the equivalent of flying to the moon. They'd probably also have a heart attack…
Stepping back 50-plus years into the original Gullwing is like turning off Dolby 5.1 surround-sound and switching on a valve radio. The 300SL's 2996cc straight six has less than half the AMG's capacity, just one overhead camshaft and only two valves per cylinder. But as the world's first production engine with fuel injection – direct fuel injection at that – it represents a milestone in the development of the performance car.
Turn the key (no gimmicky start buttons here!) and the 300SL whirrs into life. You can hear it breathe and almost sense its heartbeat.
It sounds unashamedly mechanical and that sensation carries over to its four-speed manual gearbox. The clutch is quite heavy, but the long gearshift action is smooth and nicely positive, and there's a time-honoured straight-six exhaust woofle as background noise.
Despite this car's 54-year-old vintage, the SL still feels punchy and as the engine gathers revs and the power builds, the sound is like being in a chase scene in an old movie. It's obviously not as fresh as it would've been new, but the long-striding SL has legs and considering its age, it's flexible and free-revving.
Punching up and down the brilliant, snaking Arthurs Seat from Victoria's Mornington Peninsula coastline, the vintage Gullwing opens its lungs and as the tacho nears the 4000rpm torque peak, you can feel its grunt start to swell.
Not wanting to hurt Patrick's million-dollar piece of automotive history, I call it quits at five grand, though the SL doesn't reach its 160kW power output until 5800rpm, and contemporary tests reckoned it would hit top speed (approaching 150mph) with the short 3.64:1 axle ratio at 6100.
Despite taking more than twice as long as the SLS to hit 100km/h, at the time, the 300SL's performance was breathtaking. In an April 1955 road test, Road & Track described as offering "instantaneous acceleration in any gear at any speed … With first or second gear engaged, full throttle at, say, 1000rpm literally forces you back in the seat.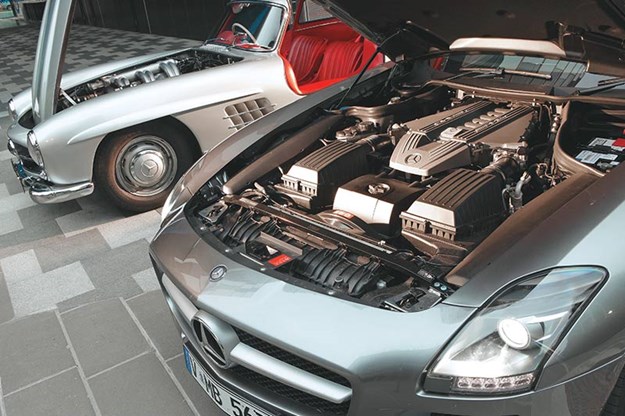 "As the tach needle swings towards 4000rpm, you think 'man, what acceleration!'. Then all hell breaks loose for at 4000rpm, things really begin to happen. The engine takes on a hard note and begins to scream. In third gear you are up to an indicated 100mph almost before you have time to think. Such is the acceleration of the Mercedes." Indeed.
From a historical perspective, the other bizarre thing is the SL's swing-axle rear suspension and all-drum brake package – just like my Beetle!
But even on the steep, tight curves of Arthurs Seat, the SL's finned drums do a tremendous job of resisting fade and transmitting feel, even though there's a fair amount of pedal travel. The single-jointed rear axles also work beautifully in the SL's favour – trail some brake into a corner, feel the rear camber adjust the tail outwards and pivot the nose in, then stomp on the throttle.
It's just like a Beetle only in a much wider car with a much lower centre of gravity, and without the sensation of it potentially tripping over! Hitting a big undulation with the Gullwing loaded up in a high-speed corner would be a bottom-clencher, I'd imagine, but in really tight stuff, the swing axles can actually work in your favour.
Comparatively, the SLS feels like a computer game – super-fast, super-reactive, and requiring hyper-focus. As a modern supercar, it's hugely impressive because you can really lean on it and push it hard without too much fear of it biting you. Despite its 53 percent rear weight bias, there's a whiff of safety understeer as it approaches its limit, though with throttle on and ESP off at slower speeds, power oversteer is always an option.
But the SLS is a controllable, liveable, and even almost practical supercar for two people. Unlike the SL, it doesn't fill its entire boot with a spare tyre! But also unlike the SL, its styling isn't perfection and its interior isn't art.
The SLS is all about impact – from that incredible engine to those conversation-starting doors. It's a brave car, and an exciting one, and an impressive achievement by AMG. But I doubt it will ever be a true legend. That position in the Mercedes-Benz lineage is already taken.
Source: Uniquecars.com