"Choose a Job You Love and You Will Never Have to Work a Day in Your Life" - Confucius
This month, we would like to highlight the story of our friend, Julien, Ferrari workshop Manager.
Julien has been working for the brand since 2005 as he started his career in the famous Charles Pozzi workshop in Paris. At this time, the company was directly controlled by Maranello's head-quarter before being sold to the Neubaueur Group in 2009. While working for the brand in Paris, Julien had the chance to go through the whole hierarchy which composes the after-sales department. He also experienced between 2006 and 2007 attending the 430 Challenge championship as a part of the technical support team for 6 cars.
He finally quitted Ferrari in 2013, to take the position of After-sales Manager with Mercedes and spent 4 years working for the brand.
However, Julien has always been a real Ferrari enthusiast and he felt that he couldn't be involved with another brand as much as he was with the Prancing Horse House. He was missing the thrill that such a "supercar-maker" instils when you are part of it.
The very well-known Carrosserie Lecoq, which is still the sole Ferrari official workshop for paint and body repairs in Paris, offered Julien to join in as Deputy Director. And 2 years later, he was promoted Ferrari workshop Manager: this sounded for this real Ferrari enthusiast like a childhood dream coming true.
When we ask him "what is your favourite Ferrari?", the answer is so complicated to express that he eventually says "all of them… whether they are classic or modern cars…" and then he continues " Ferraris are unique, even if you look at 3 of them from the same type, they will always be different and they will always have their charms and specificities…" Julien's passion is actually enrooted in a strong belief : if one sits behind a Ferrari's steering wheel, this person has in his/her hands the whole story of a man who decided one day to build the most amazing cars ever made, it's like being part of Enzo's family.
Julien is still a young guy with a yet impressive experience which has been always driven by passion. He contemplates those cars as Art pieces and some even as Master pieces. He has so many memories that this article could be endless, but he really wanted to share what he considers as the best one. While he worked for Charles Pozzi, he was absolutely amazed to observe those mechanics/engineers working on a full genuine old Colombo engine reconditioning. The guys were so experienced that this just looked simple! But on the other hand, they were spending hours, days, weeks to properly set and fine tune the heart of these beautiful engines. "This is really something to be seen and to be lived!" he says. This knowhow is nowadays mastered and used by just a few workshops; each part and every small details are crafted with quality material and exceptional human preciseness. When the job is done, old cars get new again, and it is always fascinating to realise how a Ferrari is definitely timeless.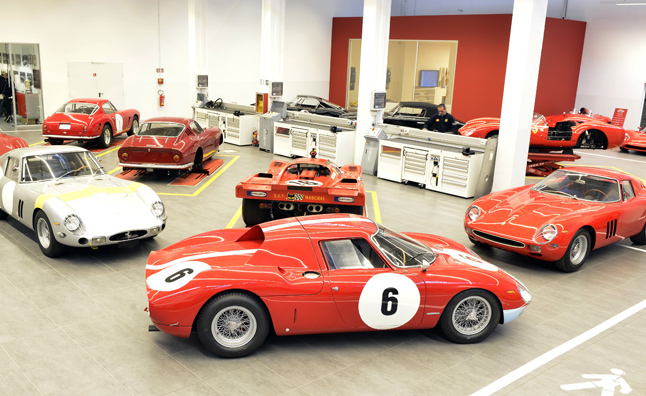 One may think that Julien has no more dreams to be fulfilled at this stage, but he still does and this is actually the magic of passion… His greatest dream is to have one day the chance to work on the iconic and yet mythic 250 GTO. And according to Julien's actual position, we are almost sure he will…