Bentley Mulliner Bacalar is the most bespoke Bentley ever made
Six example specifications created by Bentley Design Team showcase possible range of customisation – but customer choice is limitless
Each of the 12 cars produced to be totally unique
Customers to co-create Bacalar with the Bentley Mulliner Team
'Design your own Bacalar' competition opens
(Crewe, 03 April 2020) As the first product in Bentley Mulliner's new Coachbuilt portfolio, the new Bacalar affords its 12 customers even greater opportunity to express their personal tastes in the form of the ultimate open-air Grand Tourer. While work on the new car is paused until Bentley's Crewe headquarters reopens, the process of developing the unique, bespoke specification of each example can begin.
Sharing not one exterior body panel with any other Bentley model, the Bacalar is a true statement of master craftsmanship, with ultra-bespoke interior finishes being limited only by the imagination of customers
The style of each of the 12 Bacalar examples will be uniquely specified in collaboration with individual customers and the Bentley Mulliner team. Never before seen paint options, exterior treatments, interior finishes and materials are the essence of what makes the Bacalar a genuine coach-built car.
All aspects of Bacalar have been exquisitely designed in such detail that it will require time for owners to uncover each and every detail that form a complete Bacalar.
To showcase a variety of possible themes and options, Bentley Mulliner has created six example Bacalar specifications, illustrating some of the characters and styles the Bacalar is able to represent.
Maria Mulder, Head of Colour and Trim at Bentley, comments:
"The six example specifications we have created each have their own personality and purpose, but what they share in common is that only Bacalar can reflect this level of personalisation and attention to detail."
"Regardless of your personal style, whether it be to spec your Bacalar with a bold Yellow Flame exterior paint synthesised with rice husk ash, or a more subtle Moss Green that reflects the car's heritage, or to develop your own artisan piping, or co-create a unique fabric blend, the Bacalar gives you these opportunities".
A newly-developed colour pigment, synthetically manufactured with the use of rice husk ask to add a metallic quality, intensifies the drama, form and contours of the Bacalar's hand-crafted exterior, which can be used to create an unlimited number of exterior paint colours.
Creating an individual artisan piping will be part of every Bacalar ownership experience. This piping can be designed and customised to feature unique patterns, colour combinations and personal embossed effects, such as a customer's signature or special, individual customer motifs.
Co-creating a fully bespoke fabric blend using centuries-old methods in collaboration with a traditional British textile mill presents yet another unique opportunity to customise Bacalar's interior finish.
The Clerkenwell
"The Clerkenwell" specification typifies the spirit of the Brooklands racetrack where early Bentleys competed, and encapsulates a modern, effortless style accentuated by British racing heritage. The name refers to the Central London borough of Clerkenwell, home to a collection of the city's oldest architecture, as well as some of its finest creative minds.
Focusing on the classic contrast of dark green and browns, Moss Green exterior paint is paired with Cumbrian Green and Golden Oak hides, contrasted with stitching in Saddle thread and the use of Cheltenham Tweed. The veneer is a new concept – Honey Larch – providing a further contrast to the interior. Exterior brightware is in Dark Bronze Glass, carrying the colour theme out of the cabin and linking the interior and exterior palettes.
The Menlo
Taking risks and pushing the limits of what's possible with an attitude that will change the world encapsulates the spirit of "The Menlo" – named after Menlo Park, Palo Alto, California, where many of the greatest entrepreneurs gather at leading technology companies.
The bold and unmistakable colour of Cobalt runs throughout The Menlo, defining the car's exterior finish as well as its interior atmosphere. Contrasting the subtlety of a Beluga hide with accents of Cyber Yellow truly highlights the interior's definition and surfaces. The ultra-modern textile of Anthracite Alcantara is complemented by a Piano Black veneer.
The Fulton
An eye for detail discovers the extraordinary in all it sees, designed for those in the know and creating a more esoteric theme. Downtown Chicago's Fulton River District provides inspiration for this specification.
The deep and evocative exterior finish of Lacquer Red is exemplified by light, revealing all of the Bacalar's true design in detail. 5,000 year old Open Pore Riverwood alongside Piano Black veneer embellishes the interior with a sense of history and depth, coupled with hides of perforated Mulliner Beluga and Hotspur accents. Gloss black brightware and Beluga Alcantara textile adds to the understated theme.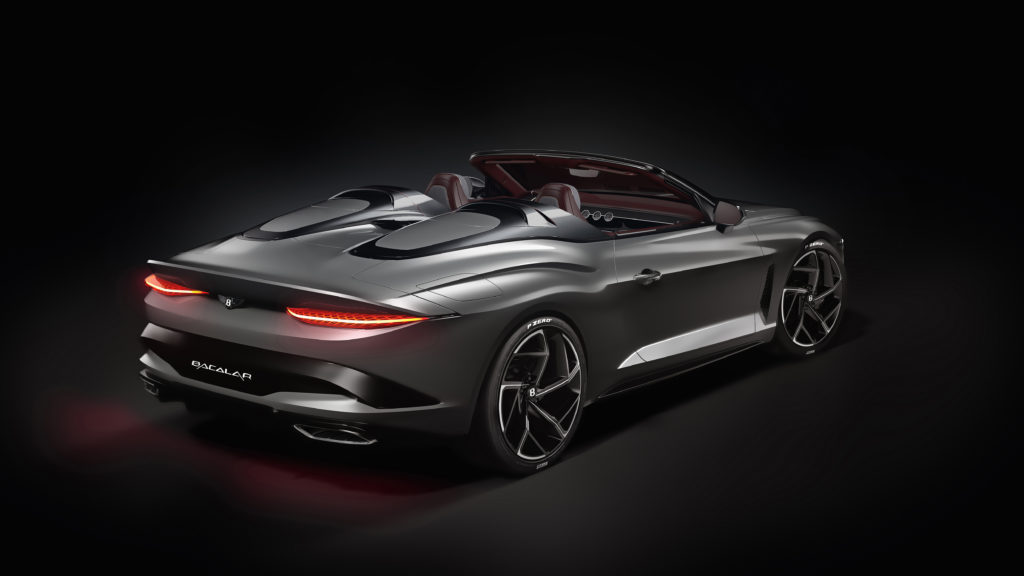 The Greenwich
Heritage style meets contemporary minimalism in a car inspired by bespoke tailoring and the English countryside – London's Greenwich borough is therefore the natural association; ever-evolving, but never forgetting its roots.
The new and bespoke exterior paint of New Grey captures all that the Greenwich represents; classic yet evolving. Cricket Ball hide is the distinctive touch of British, flattered by a Grey Tweed textile. Open Poor Riverwood in parallel with High Gloss Riverwood once again contrasts the new with the old. Details of matt black brightware and Camel contrast thread finish off the interior theme.
The Brickell
"The Brickell" refers to Miami's financial district, defined by its high-rise buildings, luxury apartments, art galleries and boutique stores.
The Brickell therefore is a brave statement of intent, most notable by its new concept Atom Silver paint contrasting with strong exterior and interior accents in concept Hyperactive. Brunel hide adds to the confidence of this car's specification, alongside the exclusiveness of Open Pore Riverwood and Piano Black veneer. Grey Tweed textile adds a touch of class and sophistication.
The Randwick (demonstration car)
This is a car handcrafted to inspire awe, provoke conversation and seek out like-minded company, which is why "The Randwick" was selected as Bentley's demonstration car. The glimmering rays of sunshine found in Sydney's glamorous Randwick suburb epitomise the car's tone.
Yellow Flame paint enlightens the cars exterior, exemplified by Gloss Black highlights, showing off the Bacalar's exterior in even greater detail. This theme continues through to the interior, where Beluga hide and Grey Tweed textile is contrasted by bright Khamun accents. Dark Bronze decorates brightware with an exquisite and unique finish, never before seen on a Bentley. The classic combination of Open Pore Riverwood and Piano Black veneers complete the interior.
'Design your own Bacalar' competition
Bentley is also launching a design-your-own Bacalar competition via the @BentleyComms Twitter channel. Both adults and children are invited to download a blank template of both the Bacalar's exterior and interior, which can be customised in any number of ways. The best designs sent back to @BentleyComms will be adjudicated by Bentley's Design team, and featured and highlighted on the channel.
– ENDS –
Notes to editors
Bentley Motors is the most sought after luxury car brand in the world. The company's headquarters in Crewe is home to all of its operations including design, R&D, engineering and production of the company's four model lines, Continental, Flying Spur, Bentayga and Mulsanne. The combination of fine craftsmanship, using skills that have been handed down through generations, alongside engineering expertise and cutting-edge technology is unique to UK luxury car brands such as Bentley. It is also an example of high-value British manufacturing at its best. Bentley employs around 4,000 people at Crewe.
Originally published at bentleymedia.com